3YK1860 vibrating screen were packed to Shanghai
Since September, YIFAN machines have been streamed to all parts of the country. Today, in the warm sunshine, a set of 3YK1860 vibrating screen already packed to shanghai.It is the machine that Shanghai customers choose for our best quality and services.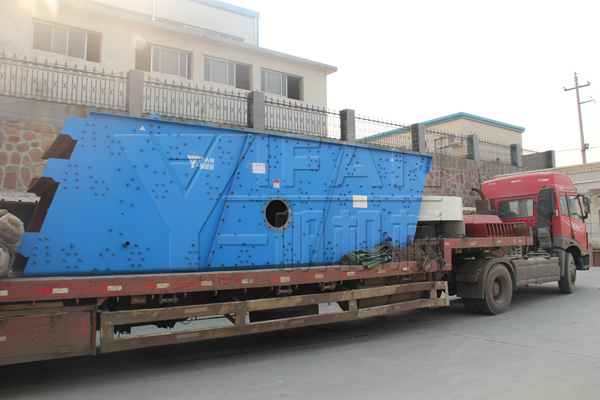 3YK1860 vibrating screen is first level mahine that YIFAN absorbed foreign advanced manufacturing technology, and the new achievement after YIFAN improvement and innovation.Compared with other same products, YIFAN vibrating screen owns a number of independent patent property, it is the other breakthrough of mining crushing industry.It professionaly provides qualified sand aggregate for natioanl highway, high speed railway, high-rise buildings, municipal engineering, hydropower dam construction, ports, concrete batching plant, etc.At present, vibrating screen has already become the first choice screening machine of mining industry.
YIFAN gather the current domestic mining equipment industry elite and technology research men, together with years of actual research and production experience, only from the view of structure design, it is incomparable for other enterprises.In order to improve the durability of the equipment,YIFAN carries out high quality parts. YIFAN machinery will follow the trend of the Times in the future development,grasping every change direction, stepping to the front of industry.
Thank you for your interest in YiFan. Please use any of the methods below to get in touch with us.
Add: The Middle of Zhengyuan Road, Xingyang Eastern Development Zone.
zip:450100
E-mail:yifanseo@yfmac.com
MSN On line: yifancrusher@yahoo.cn
ICQ: 639607958 QQ: 2502761202
Tel: +86-371-64628852 Fax: +86-371-64628872
The article by Yifan Machinery Editor: http://www.symonscrusher.net, please indicate the source , little effort , thank you .
PREV: Hydraulic cone crusher went to Sinkiang is an irresistable trend
NEXT: Hydraulic Cone Crusher is outstanding in Crushing Technology
...........................................................
Please input your inquiry in below form, we will get back to you as soon as possible!
Privacy Policy