150t/h basalt crushing production line applied in Sri Lanka
With the development of the world economy, many countries begin to pay attention to the recycling of natural resources. And with the rapid development of infrastructure project, in order to replenish the need of sand market, manufactured sand has become the first choice for engineering construction. So the demand of various sand making equipment rises continuously, Zhengzhou YIFAN -as the leading manufacturer of professional stone/sand production line, increases the technology content constantly in processing to create leading brand in crushing and screening industry. At present, the 150t/h basalt crushing production line created for Sri Lanka customers proves its high performance and professional brand.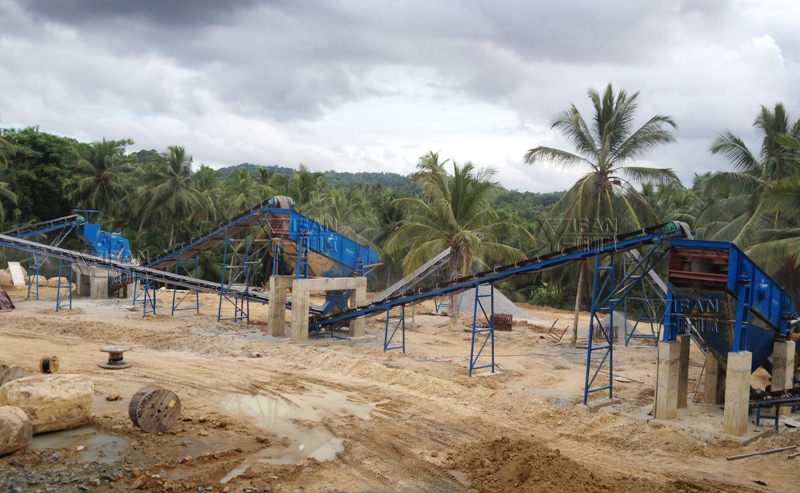 The 150t/h basalt crushing production line applied in Sri Lanka is mainly consisted of vibrating feeder, jaw crusher, impact crusher, vibating screen, conveyor belt and centralized control equipment etc. This stone production line has the features of small floor space, high investment economy benefit, high quality crushing materials, low powder productivity etc. The operation procedure is reasonable: first, raw material is crushed by jaw crusher, it is called coarse crushing, then the coarse aggregate is conveyed to the impact crusher by conveyor belt to be crushed again. The crushed material is screened into three kind size of sand, stone and bigger stones, and then back to the impact crusher be crushed again. In order to make sure the discharging is unobstructed, YIFAN equipted advanced electric control operating system for Sri Lanka customers.
The 150t/h basalt crushing production line wins good reputation from Sri Lanka customers depend on its good quality, reliable operation and advanced technology. The products manufactured by YIFAN has become the mainstream brand products and the most trusted brand products.
Thank you for your interest in YiFan. Please use any of the methods below to get in touch with us. or you can also leave your contact directly on the website.
Add: The Middle of Zhengyuan Road, Xingyang Eastern Development Zone.
zip:450100
E-mail:yifanseo@yfmac.com
MSN On line: yifancrusher@yahoo.cn
Skype: yifancrusher
Tel: +86-371-64628852 Fax: +86-371-64628872
The article by Yifan Machinery Editor: http://www.symonscrusher.net, please indicate the source , little
PREV: VC Sand Making Machine—a Great Leap Forward in the Technology of Crusher Industry
NEXT: Hydraulic cone crusher will make a great performance in industry development
...........................................................
Please input your inquiry in below form, we will get back to you as soon as possible!
Privacy Policy